Three men from Akwesasne wanted in connection to a vicious beating of two men.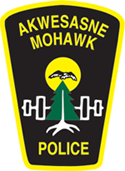 The Akwesasne Mohawk Police are seeking the public's assistance in locating three males in relation to a serious assault that took place in early October. A 20-year-old Akwesasne man was airlifted to a Burlington, Vt. hospital on October 13 with serious non-life threatening injuries while a 31-year-old Brasher Falls, NY man suffered minor injuries in the assault. He was treated and released from the hospital.
Police announced on Monday (Oct. 30) they are looking for 26-year-old Johnathan Leonard Francis, 30-year-old Jeremy Richard Francis and 26-year-old Ariwiio Logan Swamp all of Akwesasne.
There are arrest warrants for the three men to face charges of aggravated assault, assault with a weapon, forcible confinement and extortion using a firearm.
A 26-year-old Akwesasne man, Aaron Vaughn Adams, was charged with aggravated assault, forcible confinement, uttering threats, assault with a weapon and extortion. He has a December court date in Valleyfield, Que.
Anyone with information on their whereabouts of the trio is asked to call police at 613-575-2340 or Akwesasne Crime Stoppers at 613-575-2255.
27,258 total views, 0 views today