ABGC's 'Teen Night' gets visit from Miss Indian World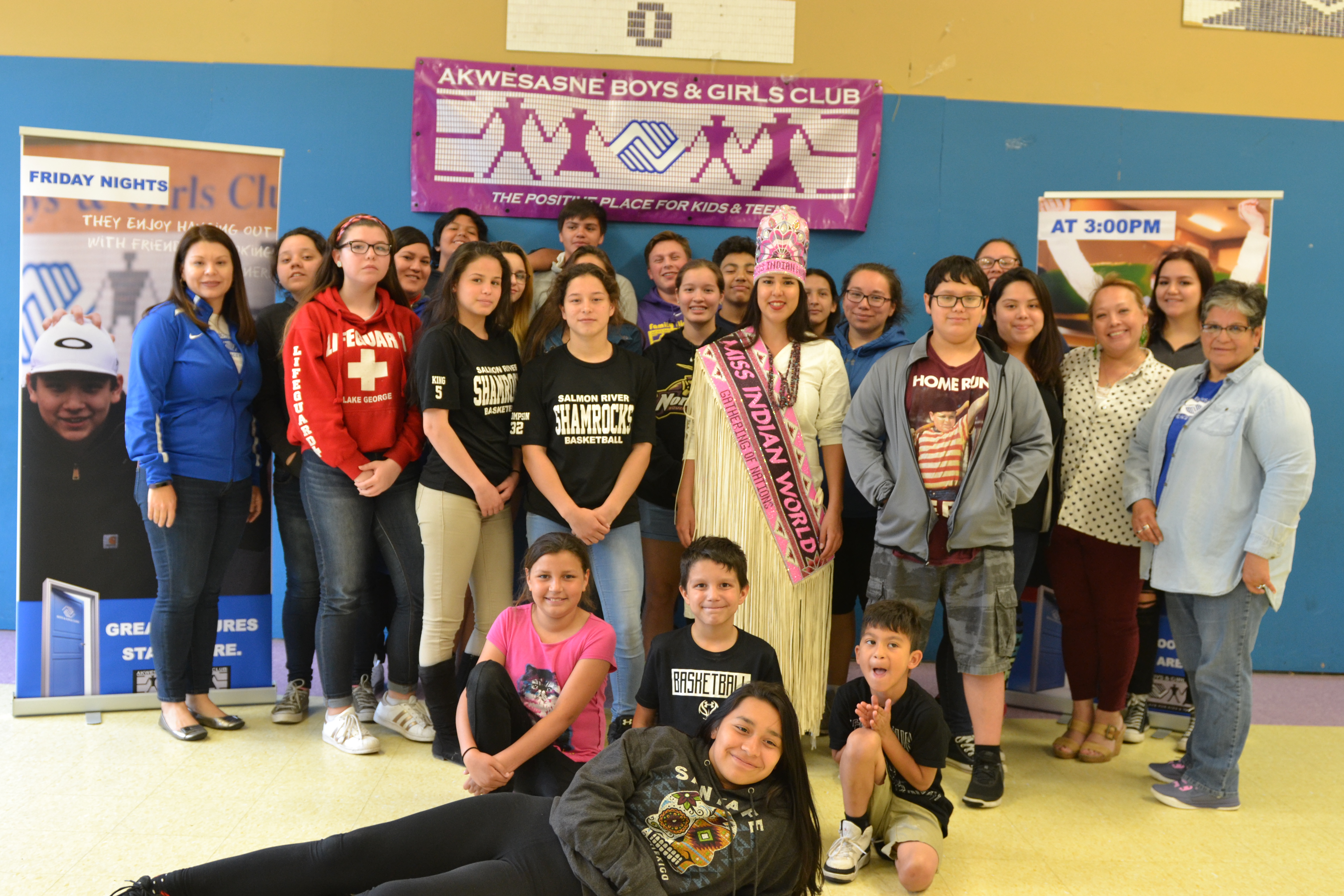 The recently crowned Miss Indian World, Raven Swamp, visited the Akwesasne Boys & Girls Club during last Friday's 'Teen Night'.  Swamp, who is from Kahnawake, won the title of Miss Indian World 2017-2018, and is the only Mohawk woman to be crowned this title during the 'Gathering of Nations' powwow.
Swamp was one of 23 native women to compete for this prestigious title, representing their respective tribes in the areas of Tribal knowledge, traditional dance, public speaking, and a personality assessment.  Swamp performed her entire talent performance in Kanien'keha.  "A lot of judges came up to me at the end and said they never really heard a language spoken so beautifully.  Our language is beautiful, and is the essence of who we are," said Swamp.  This title serves as a major platform for its recipient in indigenous communities throughout the world.
Dressed in her beautifully hand sewn Iroquois traditional clothing, Swamp spoke to ABGC club members about her platform on indigenous food sovereignty and language revitalization, including her experiences from running for the title of Miss Indian World.  Based on language revitalization, and indigenous food sovereignty, Swamp touched on the importance of speaking the language, and familial gardening.
"Indigenous food sovereignty is really important to me as a Kanienkehaka woman, and when I was younger it was actually one of my first few jobs.  I was a gardener when I was 13, and as I grew older, I kept gardening, even though I honestly didn't know why I kept it up.  As I grew into a young woman I realized that gardening is a way we show love to one another."
The 23-year-old Kindergarten teacher at Kariwanonron Immersion School on Kahnawake Mohawk Territory, told the children a bit of history on how Kanienkehaka people greeted guests into their communities and homes, and that it was through food.  Through sharing meals, made with food that was home grown and cared for, created a deeper appreciation for the food you're putting in to your body.  "When you ingest it, it's kind of like you're tasting all the hard work that you put into it, and when you feed that to someone, you get a deeper appreciation, they get a deeper appreciation for that food that you've offered them," said Swamp.
Miss Indian World talked to the children about the importance of gardening as a Kanienkehaka person, as a family, and as a community, stressing that they can better understand that community and family are very important aspects to the Kanienkehaka lifestyle.  "Community is a big part of who we are; food is also just as important.  All of the longhouse ceremonies revolve around food.  When we give thanks to the Maple, you're giving thanks to food; the Strawberry ceremony, that's food; green beans, corn, it all revolves around food.  So, gardening is very big to us, and I'd like to stress that continuing to garden is kind of asserting our independence, because ever since the settlers came here it seems that we've been ever so dependent on them."
Swamp says gardening is the best form of love you can offer someone, or that someone can offer you, and being in charge of what you put in to your body is a big part of food sovereignty. "Its taking out that middle person, it's connecting you with the food, connecting you with nature, and our Mother, because food is a creation of hers.  We view the Earth as our Mother, the Sun as our Elder Brother, and the Moon as our Grandmother.  Family is everywhere in our culture.  We view each other as family, and we view the world and all of creation a family.  If we viewed nature as family, we are less likely to abuse it and its resources."
ABGC club members listened as Swamp addressed them in fluent Kanien'keha, introducing herself, and then explaining in English what she was saying.  She asked the members, "why do you think speaking Kanien'keha is so important to who we are as Kanienkehaka people"?  "Kanien'keha, in my opinion, shapes our minds.  It helps us view each other as a collective, rather than more of a singular way of thinking, it brings us together. When you speak Kanien'keha, it's all about putting words together to make a deeper meaning, which is a lesson you may take from that is Skanikonra, that everyone is equal."
ABGC Executive Director, Jessica Cree-Jock, invited Miss Indian World to speak to  club members about the importance of preserving the Kanien'keha language, indigenous food sovereignty and what that means for indigenous people.  "I brought her in so that the teens could understand that there are so many opportunities out there, that they can take them all over the world," said Cree-Jock.  "They are young and I want them to see that they can do anything and go anywhere, enjoy life, and bring back their experiences and expertise to our community."
The Akwesasne Boys & Girls Club currently practices food sovereignty, in that the club grows much of its own food, from their indoor grow lights, to the full gardening season in Akwesasne. Club Members tend their own vegetables that are cooked on site by the ABGC Chef, Miss Dottie. The children get to see their food grow from seed to table, proudly enjoying the fruit of their labor.  "A big reason that I brought Miss Indian World was because her platform is food sovereignty, and language preservation.  Two things that we are educating our youth on," said Cree-Jock.
Swamp says the road to Miss Indian World began on Facebook, where she found the opportunity to apply for this prestigious title.  She encourages all youth to go beyond their comfort zone and try something new, — reach for the stars.  "When I was competing for Miss Indian World, my family and my community rallied behind me, and I knew they were there for me".  "Each day I felt their presence inside me, even though it was me that was there competing, I knew that I had them with me".
Swamp said for the competition she based her presentation on the '3 Sisters' and 'Creation Story'. "I did the whole presentation in Kanien'keha.  Our language is so beautiful, so speaking our language is almost like it develops a collective way of thinking".
She says, "it really shapes our minds to think of one another, to put words together, and really develop that sense of community."
By: Ohseraseia:hawi
This site is sponsored in part by: