Annonymous Letters are debunked — Investigation Launched. SRMT Tribal Council Calms Storm after 'Unauthored' Letters Concern Community at March Monthly Meeting 
Six young Akwesasne women highlighted at monthly community meeting, border issues and blood quantum are discussed, and Akwesasne organizations get real about social issues in the community and how to tackle them effectively!
Akwesasne, NY- March 4, 2017, — The Saint Regis Mohawk Tribe held its monthly meeting in the Community Building, chaired by Tribal Chief Beverly Cook.  True to her fashion, Chief Cook acknowledged the community first, and asked for a moment of silence to all community members who've passed on in recent weeks; and to send out strength to all community members in grief.  Meeting attendance was strong as tensions had grown over the passing weeks over some anonymously distributed letters to the Hogansburg P.O. and residential mail boxes.
The discussion happened during 'New Business' when the meeting 'floor' was opened, in which community members sought explanation for letters that have been circulated to select households and P.O. Boxes in the Hogansburg area.  Tribal Council discussed the matters of the first letter, debunking false allegations and clarifying wording taken out of context.
Community members came forward with their thoughts and concerns on these anonymous letters.  Ruth Bell, Elders Benefit Group chairperson, stated to Tribal Council and she and the Elders group had "nothing to do with it," but went on to admit she personally gave help to the unnamed individual/author of the second letter.  Phil Tarbell, Elders Benefit Group member, admitted to allowing the use of his Hogansburg P.O. Box for the mailing.  The author of these letters was not revealed at the meeting, but a formal motion was made to investigate the matter of the anonymous propaganda distributed to the community, and to have an evaluation of the Elders Group.  "Exploitation of elders is an assault to all Akwesasne members," stated a community member.  The motion was seconded and passed.
Youth Accomplishments: – During the meeting, Tribal Council introduced three out of the six young ladies that were involved with the 2017 USET meeting in Washington, D.C.  The ladies provided their perspective, and filled the community in on the activities they could partake in on this wonderful opportunity.  Each of the six ladies that were selected to make this trip got to board with students of other federally recognized tribes, participate in mock trials, and gain an eye-opening perspective on the inner workings of politics in D.C.  One youth representative stated that, "I learned more about how it all works, and comes together.  I really liked it because it focused on government things, and we got to do a mock trial, and talk about environmental issues," said Kaniehtine (Olivia) Lafrance.
26 Federally recognized tribes attend USET, many of which could send youth representatives.  The girls could connect with other youth from all over the country, and exchange information on upcoming events and meetings.  Students in the JOM Program were asked to write an essay to enter for a chance to attend this USET meeting.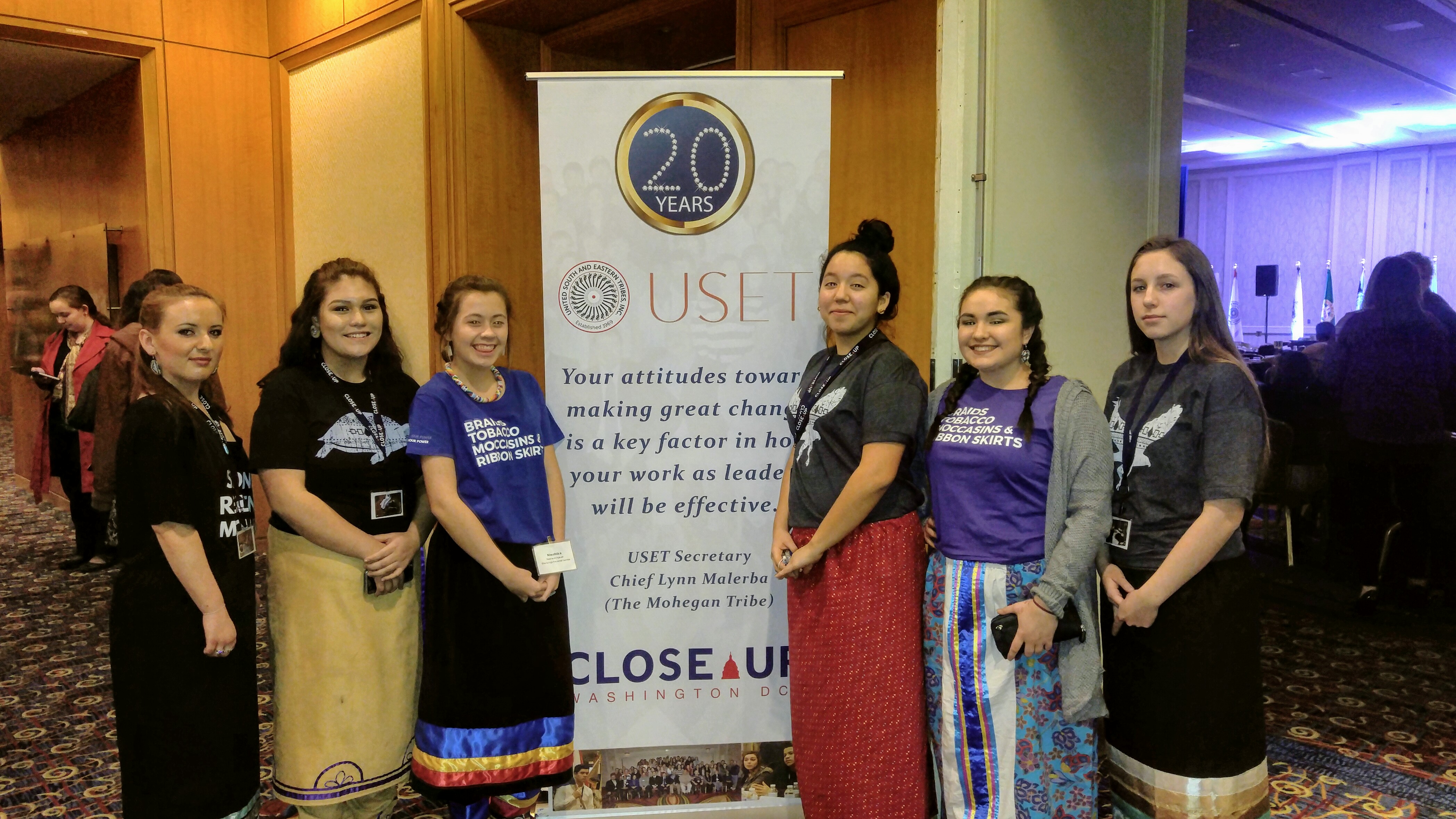 Border Crossing Issues: – Chief Eric Thompson gave an overview of border crossing issues, and the efforts made to have successful legislative support and bi-partisan support in D.C.  Chief Thompson met with Homeland Security in regards to the Jay Treaty, and blood quantum issues.  Thompson said that, "we need to educate as many congress people as we can on our issues, so we aren't lumped in together with the southern tribes," who do not share the same issues as we do, being on the northern US/Canada border. "We are positive in what we're doing, we've had great feedback, and good support in this."
The Jay Treaty (1794) was designed to acknowledge and protect the inherent border crossing rights of First Nation's people.  Tribal Council seeks to add to the treaty, as the terms used are leftover statutory language from the 1950's.  To protect the rights of First Nations in today's world, the SRMT tribal council wants to add additional language, to avoid the instances where some community members were asked to prove their blood quantum of 50% or more.  "The statute doesn't recognize the card, it represents the language it states," said Chief Thompson, "Community members have been asked to prove they're more than 50% when coming through the US border."  Many Homeland Security officers are brought up from the US/Mexican border for training, and follow precisely as the law states; being uninformed of the community they physically border.
Dealing with Social Issues in Akwesasne: – Chanel Cook, provided a presentation on Native Connections.  Cook, who is the Grant Coordinator for the Native Connections, gave an overview of what to expect from the two grants awarded for the next five years.  Native Connections is an informational platform that considers current programs for suicide prevention, drug/alcohol abuse, and mental health awareness. "Suicide is not an easily talked about subject, and may make some uncomfortable", said Cook.  The program will examine why talking about suicide and mental health are important, the Akwesasne Suicide Prevention Coalition, and what you can do as a community member to help prevent suicide.
Suicide statistics in Akwesasne came as a shock to many community members in attendance.  In the past year, there were 26 suicide attempts, and since 2008 there have been six known youth deaths by suicide; and 10 youth who died by overdose from drugs and/or alcohol.  There have been three deaths from opioid overdose of people under the age of 24 in the past year; six mental health hospitalizations in 2016 due to suicidal ideation or suicide attempts.  Since January 2016 there have been 19 safety action plans completed and reviewed for youth, ages 24 and under.
The Native Connections grant is a five-year Indigenous grant program, designed to "prevent and reduce suicidal behavior and substance misuse and promote mental health among tribal youth up to and including 24", said Cook.  They will be looking to collaborate and engage with other programs to help reduce mental health related stigmas; reaching out to leaders of all walks of life: elders, youth, health and medical professionals, social services, mental health and treatment services, schools and universities, tribal leaders, traditional leaders, and Akwesasronon.
Their goal is to create a "Community Readiness Model," to ensure they're able to accomplish measurable goals; some that are flexible to the ever-growing needs of the community. Cook stated that she will ensure the best practices are used in "taking the next step as a community to be healthier."
Another grant which has been awarded is Generation Indigenous (GEN-I).  GEN-I is "a Native youth initiative focused on removing the barriers that stand between Native youth and their opportunity to succeed.  This initiative will take a comprehensive, culturally appropriate approach to help improve the lives and opportunities for Native youth and will include policy and youth engagement components."
GEN-I is a treatment based grant that will utilize screenings of emotional health/wellness of individuals from infancy to age 18.  Working with the Akwesasne Suicide Prevention Coalition, est. in 2014, the goal is to provide training, prevention, education, and healing.
The Annual Suicide Awareness/Prevention Walk is scheduled for May 17th, 2017.   
Debbie Martin, Director of Sewakwatho, presented on their program, which is a safe place or drop in center for recovering addicts. Martin provided an overview of what Sewakwatho is, and how the community can get involved; addict or not.  "Sewakwatho is really special.  I have heard many people say to me, "I don't know where I'd be without Sewakwatho."  This program is completely volunteer based, and could at times be a 24-hour facility, especially during those tougher holiday months.  "During Christmas and New-Year's we stayed open 24 hours, for people who needed somewhere to help keep them clean and sober", said Martin.
Sewakwatho, "A Place to Talk," is a host for daily AA meetings, as well as weekly NA, ALANON, and Codependency meetings; but is essentially a safe place for addicts of any realm.  Not only do they provide a safe place for those in recovery, they also offer safe cultural activities.  DJ White has facilitated beading classes, kahstowa making, and fan making in recent weeks.  This past weekend Darren Bonaparte presented his Wampum Chronicles, and in a few weeks Eddie Gray will be offering presentation on medicines.
Martin shared that, "Every year we get about 6,000 visits, and we have about 50-55 core people who come in and out every day."  Now that Sewakwatho is full established, with consistent meetings and visitors, they are recognizing the need for extra funding to meet the ever-growing needs of the community.  A bake sale is planned for March 17th, in the lobby of the community building to help support the efforts and needs of Sewakwatho.  This drop-in center is outgrowing its space, which sits atop Thompson Hill, in the former SOAR building; and funds raised will go towards their new building.  They invite everyone to come support them in their efforts.
March 22, 2017, Sewakwatho, along with over 30 other agencies will be hosting an Addictions Expo, in the former IGA building from 9am-4pm.
Tribal Council: – Sub-Chief Michael Connors provided an overview of his travel in recent weeks, highlighting the National Day of Remembrance for Missing & Murdered Indigenous Women and Girls; which is sought to be May 5th, annually.  He sat in on a round table discussion on these matters, and it is up for National recognition.  Akwesasne will celebrate this day of Remembrance on May 5th, 2017.  Connors ensured that this is gaining senate support.
Tribal Council also updated the community on their travel in the New Year, providing insight on what to expect with the new administration, the efforts made to secure funding, meetings with new White House reps, and Jay Treaty revision update.
An action item was created to consider the steps needed to be taken to reopen the 1990 cold case murders in Akwesasne.   
The Saint Regis Mohawk Tribe welcomes all Tribal Member to attend their monthly meetings each month.  The next monthly meeting will be held on April 1, 2017 at 10AM in the lobby of the SRMT Community Building.
The Featured Image is a file photo from a previous community meeting regarding the elder's benefit.
Written By: Ohseraseia:hawi
12 total views, 2 views today