Kawehno:ke District Chief Thompson to Run Quebec City Marathon for AKTIV Akwesasne– "This initiative was created to promote a healthier, more physically active lifestyle in Akwesasne by raising awareness on rising health issues among children." April 7, 2017- Kawehno:ke District Chief Troy Thompson made an announcement to the community that he will be running the Quebec City Marathon, August 27th, 2017 in an effort to prevent and combat childhood obesity issues in Akwesasne.  Chief Thompson has vowed 100% of the funds raised will go towards an initiative called "AKTIV Akwesasne."  This initiative was created to promote a healthier, more physically active lifestyle in Akwesasne by raising awareness on rising health issues amongst children.  "There are a lot of kids in the community with childhood obesity, which often leads to diabetes.  I see a lot of kids, including kids in my own family, that are facing this problem and if you don't address it now these kids are going to spend their entire lives battling health issues and everything that comes along with it,".
One of the greatest threats to the future of indigenous youth is childhood obesity.  Childhood obesity has more than tripled in the past 30 years in the United States, and has been rising steadily in Canada in recent decades to as much as a 26% increase.  According the Childhood Obesity Foundation Canada, in 2013, 42 million infants and young children were overweight or obese.  By 2025, if trends continue, 70 million youth will be overweight or obese.  Childhood obesity is associated with a wide array of serious health issues and complications including increased risks of diabetes and heart disease.
"The numbers are getting worse; I think it's the worst I've ever seen.  You go to any public event and you see kids with Gatorade, and you see kids with bags of chips.  There are kids that are too often tied to their cell phones, tablets, and video games; so the whole part of this initiative is to try and get kids more physically active, get them back outside, get them connected with their families again," stated Thompson.
There's a huge component of AKTIV Akwesasne that they want to eventually develop which are trails and parks; recreational spaces like skate board parks, bike tracks, and swimming platforms, to give the kids and option to go someplace to socialize, to have fun with their friends; and just in the end be more physically active. Thompson stated that, "I know that there are kids out there that are not athletes, so we have to look at options for them too."
AKTIV Akwesasne is a big brand, started in part with the MCA Health Dept.  They have a logo that will be put on t-shirts, water bottles, yoga mats, and anything and everything promoting physical activity.  It's designed to promote a healthier more active community.  The ultimate goal of this initiative is to create safe and accessible spaces for Akwesasronon of all ages to enjoy all types of activities, to get back outdoors, and to become a healthier community for the next seven generations.
Chief Thompson stated that, "the reason why I want to run the Quebec City Marathon is for multiple reasons.  I ran the New York City Marathon in 2004, and it was one of the best experiences of my life.  Training is really brutal, but it's all worth it once you cross the line.  Since I'm running anyways why not bring awareness to child obesity and raise funds to remedy it through programming and such."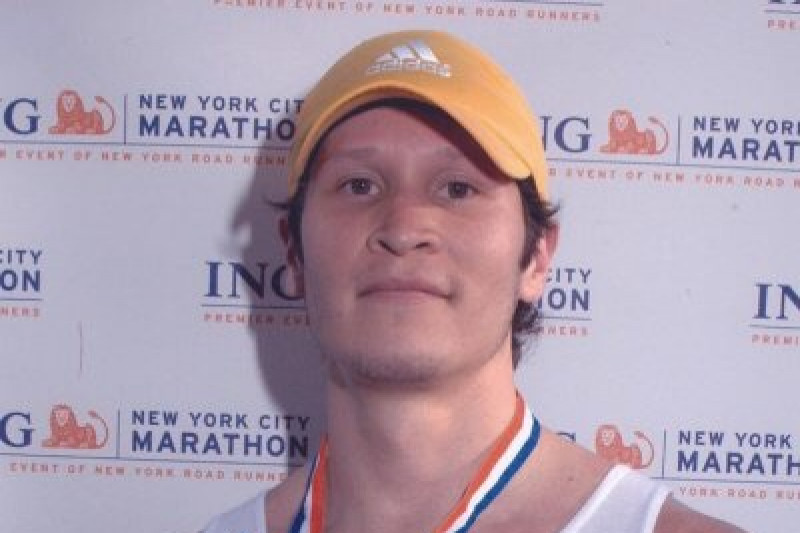 Chief Thompson has started training, and plans to run mainly outdoors when the weather finally perks up.  "I want to go through all four districts of Akwesasne, so from the Island I'll go through Hogansburg, then to Snye and I want to end it in Saint; In hopes that kids see me and if I inspire one child to say "holy smokes, Troy is running a marathon, maybe I want to do that."  If I get just one child to become more physically active I think that's a success.  I'm 41, and I have one under my belt.  My second one will be at the end of August in Quebec City.   I'm just going to keep running marathons until I can't."
Each year, Thompson plans on raising money for health issues in the community of Akwesasne.  "Our kids are our future doctors, and our future lawyers, engineers, actors and professional golfers; and child obesity could be that blockade to get them to what they want to do in life.  If nobody addresses it, I'm fearful for their futures.  That's why I'm doing it."
Chief Thompson has started a GoFundMe page to help reach his goal of $5,000 to go towards AKTIV Akwesasne initiative.  "I'm up to over $1,700 now.  Obviously we need hundreds of thousands of dollars to build trails and parks in Akwesasne, but we have to start somewhere."  If you would like to contribute to AKTIV Akwesasne please visit, https://www.gofundme.com/runningvschildobesity.
In Canada, Aboriginal people are amongst the highest risk population for diabetes and in the United States; American Indian/Alaska Natives are twice as likely to have a type 2 diabetes diagnosis.  Individuals with diabetes are at risk of experiencing complications such as heart disease, stroke, blindness, chronic kidney disease, and high risk of amputations.  Combating childhood obesity early on is detrimental to the livelihoods of youth.
By: Ohseraseia:hawi
13 total views, 2 views today