Rochester Knighthawks Honor Akwesasronon Code Talker on their Annual Native American Night– …"this celebration should have taken place 70 years ago; unfortunately it didn't."–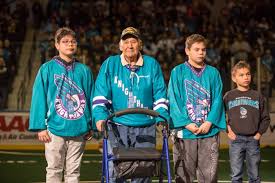 Rochester, NY- Saturday, January 7th, 2017, the Rochester Knighthawks honored Akwesasronon Louis Levi Oakes, who is the last surviving WWII Mohawk Code Talker in an emotional pre-game entrance at the Blue Cross Arena.  Mr. Oakes was given a standing ovation as his grandchildren assisted him to midfield to receive his honorarium.  Mr. Oakes served as a technician with the 4th Grade, Company B; 442nd Signal Battalion, US Army.  He served as a code talker in the Pacific Theater for two and a half years, sending messages and codes to allies in Kanienkeha.
Executive Director of Veterans Outreach Center, Todd Baxter gave Mr. Oakes an introduction before saluting the war hero.  Baxter said in his speech that, "this celebration should have taken place 70 years ago; unfortunately it didn't.  There is no better time to do it than today to recognize those who gave so much during World War II.  Using his native tongue, they helped defeat our enemies back during World War II by allowing us to communicate between our ships and armed forces.  These men sacrificed their lives… it's time we honor them."
During WWII, the United States leveraged Native Americans to communicate between US forces, and to this day remains the only unbroken military codes in history.  There were several Native languages used during WWII, including Mohawk, Navajo, Choctaw, Comanche, Hopi, and Cherokee to name a few.  They would use Native recruiters to find men to enlist; some enlisted, however many were drafted without choice.
Native American code talkers were men and boys from a generation struck hard by the atrocities of Boarding, or Residential Schools.  Those very men who had their language beaten out of them were recruited to use their language to save thousands of lives, and help claim victory over World War II.  It took more than 40 years for the United States to award special recognition for Code Talking.  Native American Code Talking was a "Secret Program" developed by the United States, and all men involved were told that it was secret and classified by the US Military.  These men were ordered to keep their wartime jobs secret.
During the award ceremony held in May of 2016, to honor the 24 Mohawk Code Talkers, Mr. Oakes was asked for some insight on his trips overseas as a code talker, but in true Code Talker form he remained silent on the subject.  His daughter, Ms. Dora Oakes said in a statement last spring that her father used to tell them, "'I was in the Army', that was all he would tell us. 'They'll kill me if I tell ya.'"
Mr. Oakes was given the Congressional Medal on May 28th, 2016 in a ceremony in Akwesasne, honoring the 24 Mohawk Code Talkers.  Family members received medals in honor of the 23 men who have made their way to the Skyworld, and Mr. Oakes received his long overdue honorarium.  The Congressional Medal is the highest civilian award that can be bestowed by the US Congress.  Since, Oakes has been honored at several events including the 17th Honor Flight trip to Washington, DC, complete with a motorcycle escort to catch his flight to see the World War II Memorial in the Nation's capital.
The Knighthawks honored Mr. Oakes on Native American Night, which is an annual event that honors the Creator's Game in some special presentation.   It couldn't be more appropriate for the Rochester Knighthawks to host this annual night of honor, as their home arena is in an area immersed in Iroquoian history and culture.  The Knighthawks currently have 8 Native players, and two native assistant coaches, the most on any other NLL organization.  Oakes was presented with a traditional lacrosse stick, in honor of his Iroquois background, and also dropped the ball for the first face-off of the game.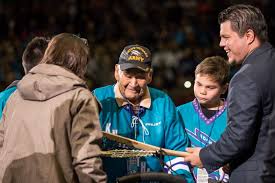 BY: Ohseraseia:hawi
11 total views, 2 views today